Director of Art & Design
For those who are unfamiliar with what an Art Director does, can you explain a little bit about your responsibilities in this role for Neiman Marcus? What are your favorite parts of the job, and what do you find the most challenging?
In a nutshell, my main responsibility is creating all the photos or videos that are made specifically for Neiman's social media platforms. While we do repurpose images from our catalog and website, for Instagram especially we love to create our own content to feel more organic and tailored to the feed. Most of the time marketing will come to me with products they would like to have featured and it's up to me to conceptualize the look and feel of the shots and get that signed off by my Creative Director. From there, I'll either photograph the product myself or work closely with a producer to pick out locations, models, stylists, and a photographer for the project.
My favorite part of the job is the fact that it gets me away from my desk. My background is in graphic design so my first jobs after college were spent stuck behind a computer all day. With this role I get to be out on a shoot once or twice a week where I get to work with lots of different creatives. I'm also responsible for live coverage of in-store events and NYFW so I get to do a fair amount of travelling, which has always been a dream.
The biggest challenge I've found with the role is taking the time to step back and really brainstorm fresh ways of visual storytelling. I work on a large number of assets over the course of a month, fitting in time to concept and find inspiration to stir up new ideas is a constant struggle because you're so busy moving onto the next project.
What is it like to be able to come up with artistic visions for such an iconic brand like Neiman Marcus? How does your own personal design taste and style affect the content you produce?
It's still kinda crazy to think about, especially since I didn't grow up around luxury brands. Since starting the job in January, this has been a whole new world to discover and I didn't realize the full impact the company has played in the world of fashion. It definitely adds a layer of pressure knowing the people who will be viewing your work, but I feel very lucky to be a small part of its history.
My personal taste comes into play in many ways. At the end of the day I want to create content I feel good about and would feel comfortable posting onto my own feed. When given the choice, I'm definitely more likely to feature a product whose design aesthetic I resonate with and I always take the knowledge I've learned from my personal experience in social media and use that when figuring out what the setting should be, which angle to shoot the product, and how to incorporate fun elements to make the image stand out, etc.
When styling a shoot or designing the look of an advertisement or other media component, what are the main things you want to get across to the consumer?
Just like my own feed, I like to keep it fun and playful. I'm not a very serious person and I want my photos to feel lighthearted and aspirational. So whether it's highlighting a product in a cute and colorful way, or inserting yourself into a beautiful setting, for me it's all about capturing that moment in your day that could have been mundane and looking for what made it special.
This obviously varies depending on the campaign, but what are some of your main goals that you want to achieve with every project as an Art Director?
I think my biggest goal is always working to create an authentic moment. If you're working for a brand this can be super challenging especially when at the end of the day you're trying to sell a product. But really, I'm the most proud of an image where you capture the model or even an inanimate object that doesn't feel forced and doesn't feel set up. Whenever I'm going through the selects from the day, I'm always looking for that moment where the model essentially stops modeling. Where he or she was actually laughing or doing a motion that wasn't deliberate and that one small thing just makes the photo feel so effortless and unforced.
From a more personal level, when it comes to design and style, how would you describe your own aesthetic? What kind of interior spaces do you enjoy the most? How are they designed? What recent style trends do you enjoy, and how do you think people will be dressing differently in the next few years?
My aesthetic is a mix of modern and vintage. With my apartment I definitely went the more modern route with accents of vintage pieces like my credenza and my Curtis Jere wall hanging that I nabbed at a Goodwill. When it comes to my closet I'm really trying to reel it in and get back to basics. Especially after watching the minimalism documentary on Netflix which really got me refocused on buying more timeless clothes, but there are still few things I love more than a vintage t-shirt. Velvet has become my recent obsession as well as mixing dressy with casual; like a suit with sneakers. And really anything that Gucci is doing right now I'm obsessed with and I want it all.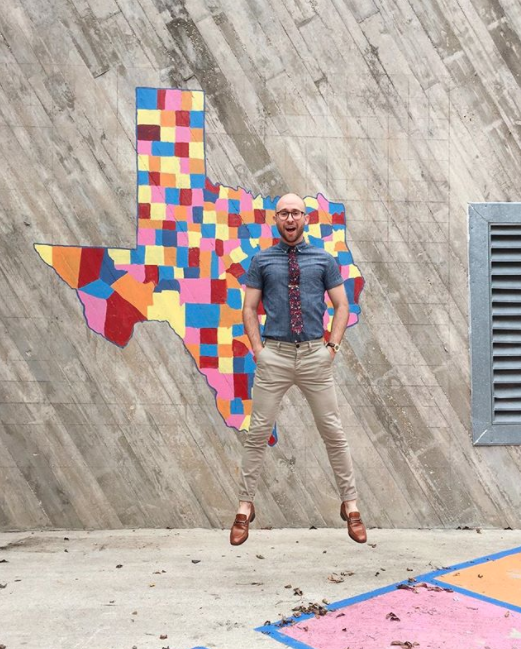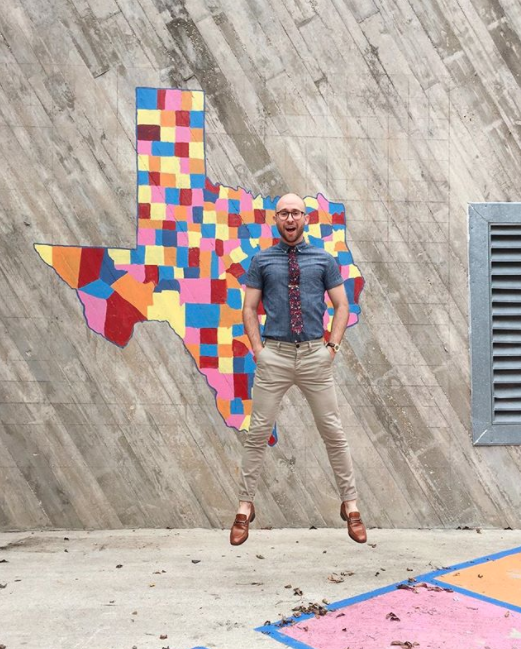 Your Instagram shows off tons of fun images of you at work, exploring the outdoors, and gallivanting around various cities. The images are clean, crisp, and colorful. Do you consciously design the look and feel of your Instagram account, or does it just happen somewhat naturally? How do you think the impact and importance of advertising via social media channels has altered the design, look, and feel of ad campaigns?
I definitely have a certain aesthetic I try to maintain, but I do feel it's something I've always been drawn to. Growing up I'd always been really interested in photography. My mom still tells the story of me as a kid sneaking off with the family camera to go take photos and how annoyed she was when she went to get the film developed and it turned out to nothing but blurry photos of butterflies. So clearly from the get-go I've been drawn to the outdoors and color, which does fill up most of my feed.
Paid ads have been a total game changer. More than ever I'm noticing a shift towards a demand for realism vs. when you think of ads in the past that were so heavily produced and the life depicted was so unattainable. Not that we don't still see that, but I think people are reacting more to something that reflects their own life. At my previous job, we were re-gramming our fans constantly and nine times out of ten that photo would have so much higher of an engagement than a photo we had shot ourselves where everything was in its right place, lighting was on point, and the models hand was in the perfect position.
And finally where do you pull inspiration from when styling, creating, or designing? Who are some of your favorite artists, designers, stylists, photographers, etc?
I find it all over the place, but Instagram is still my go-to for inspiration. I'm constantly going down rabbit holes of the web and re-pinning to my boards for upcoming shoots. Some of the people whose work I've really been enjoying lately are @justinliv, @kylesteed, and @laurenmarek. Their photos are always solid and beautiful and they each have a very unique point of view. I love discovering new artists work for the first time, especially when it comes to photography. Recently, I've become very inspired by street photography and the boldness and timing it takes to do it well. Vivian Maier and Evelyn Hofer are two of favorites whose work I'm obsessed with at the moment.
Rob Sesser was born and raised in Walla Walla, Washington, and is currently living his best life in Dallas, Texas where he is the Social Media Art Director for Neiman Marcus. His hobbies include running, keeping his beloved fiddle fig alive, and rewatching old episodes of The Hills.