Wilderness as a Mindset
The midday sun was flashing across dark wrinkles on the water's surface, and despite a brisk wind sliding down from the high left peak, the rocky floor of the lake was visible two, three, even five feet down. Glacier blue and about the size of four YMCA swimming pools, Marion Lake was hidden deep within the folds of the Teton Range of the Rocky Mountains, about 100 miles south of Yellowstone and 45 minutes outside of Jackson, Wyoming. The trail followed the wide right curve, and a rustic wooden sign pointed toward campsites in a grove of evergreens. Our permit had us camping five miles further, making this a perfect lunch spot. Stepping off the trail towards the shore, my friends and I swung down our packs and took out our water bottles. Trail mix was on today's menu, so we each grabbed handfuls and thanked God for another spectacular view.
"We have to jump in." I announced, after we had each taken turns using the "facilitrees."
"Seriously?" Rachel laughed, looking sideways at Shannon.
"I'm getting in!" I said with more gusto this time, untying my boots and hopping around while I slipped my socks off. Shannon and Rachel were both smiling now.
"We have to! It's so pretty!" The crisp mountain air took my breath away as I pulled off my sweater. It was September and the air temperature in the lake basin was about 54°F, the frigid water about ten degrees colder.
"But Alex, it's so cold."
"Come on, Shannon. We have to!" Rachel was sitting down now, slipping her shoes off. Laughing, we all stripped off our wool layers, littering the mountain shore with thermal leggings and ear warmers.
"I can't believe we're doing this! I'm already so cold!" Laughter filled the lake basin as we hopped barefoot across the cold rocks wearing only our skivvies. After an arduous fifteen-foot journey from our lunch spot to a comparatively flat boulder that stretched out towards the deeper part of the lake, we noticed that Jen, a friendly Canadian with a long blonde ponytail who we'd met the day before, was cresting the hill by our backpacks.
"Jen, jump in with us!" We squealed across the water to our new friend.
"I think I'll stay over here," she chuckled. "You all have fun!"
A couple of weeks after the trip, I came across a photo attachment in an email from Jen. She had captured that exact moment when I shut my eyes and launched myself into the blue. I laughed when I saw it and immediately sent Shannon and Rachel a sassy message; I was the only one who jumped. Shannon and Rachel were caught in the frame, gingerly sliding their white bodies off the rock, their faces stretching with laughter and the cold shock of the water; while I—arms towards the heavens, pink belly shining against the dark hued wilderness—had jumped. Out toward the deep sapphire heart of the mountain, toward the invisible depths, the shining cool water that had rolled out of the clouds to join some ancient glacier, and now rested in this stubborn rocky indent before the steep slopes and hills fell down toward the plains.
Shannon, Rachel, and I had met in college in Kentucky. We all graduated in May 2015 with a degree in Recreation with an Emphasis in Adventure Leadership, which is basically a fancy way of saying we learned how to survive in the wilderness and lead expeditions in the back country. My dad jokes that my major was "Having Fun Outside," which isn't too far from the truth. And despite many anxious nights for my loving parents while I roamed the countryside for a college degree, the most dangerous part of the major was, statistically, driving to and from our trips. In reality, our undergrad program had given us each the invaluable experience of planning trips for groups of all ages and skill levels while considering risk-management in extremely remote locations. I like to say that if you can keep a group of middle schoolers (and their parents) from freaking out when a snake falls into their canoe, then your leadership skills are above average. The students in my program had different reasons for choosing the major. Shannon was interested in Wilderness Therapy and double majored with Social Work; Rachel planned to do mission work internationally and saw Adventure Leadership as preparation for rugged third world conditions; and I was interested in outdoor education, or the belief that spending time in the natural world facilitates both academic and personal growth. Our trip to the Tetons in the fall of 2017 was a little send-off for Rachel before she moved to Africa for three years. Shannon and I had flown from the green hills of Kentucky to Rachel's house in the northwest corner of Iowa, where we loaded her minivan with backpacks and twenty pounds of dehydrated food for the trail and headed west.
The time I've spent outdoors, in college and since graduating, has added up to more than a fair share of hours waiting out rain storms in Rocky Mountain meadows, tramping twenty miles a day across windy Spanish plains, and paddling green water through Kentucky's winding hills. In the great expanse of the wilderness, I have felt my life swaddled into the world itself, brought near, and comforted by the divine song humming quietly through all of creation. In the most obscure places, farthest from community centers and traffic lights, I have felt the closest to my fellow man. Carrying a heavy backpack with a four-person tent, while my friend carried the night's dinner, I have learned to share burdens. Struggling up a steep trail with one end of a kayak in each hand, laughing and talking across the boats to make the time go faster, I have witnessed friendship lighten a load. Crawling out of a warm sleeping bag into a cold tent into a colder forest, I've felt the rising sun and the gift of community warm my spirit. In the wilderness, I have experienced the most precious silences and the most genuine conversations. I have received the sweetest blessings this life has to offer.
Before crossing the Mississippi River going west for the first time in my life, I read the book Desert Solitaire by Edward Abbey. It was assigned by a college professor. Abbey's words haunted me as I watched the country change outside the windows of the rented van. The soft green hills of Kentucky stretching into the fields of the Midwest, the endless grassy flats of Texas, the low, dry foliage of New Mexico, and finally the mountains. Every region was beautiful; the memory of their dusks and sunrises now blend together like a symphony in my mind. There could have been no better preparation for an end-of-semester backpacking trip than to drive through that rugged country for twenty-two hours, aching every minute to slow down, to step out into the waters where the Ohio and Mississippi converge, to feel the warm Missouri sunshine, smell the desert wind, the rain coaxed out of the clouds at the base of the mountains.
Edward Abbey, that robust outdoorsman and philosopher, wrote Desert Solitaire from the notes he'd taken during two seasons as a park ranger near Moab, Utah. Often living deep within the National Parks, Abbey cultivated his passionate infatuation with the wilderness. Infuriated by the consumerist mentality he encountered in the drive-through tourists, Abbey advocated zealously for the preservation of genuine wilderness—where there are no paved roads, no guarantee of rescue, no comforts but those you carry on your shoulders, and where nature and man are left truly unhindered by civilization. In Desert Solitaire, he insists that a "venturesome minority will always be eager to set off on their own, and no obstacles should be placed in their path; let them take risks, for Godsake, let them get lost, sunburnt, stranded, drowned, eaten by bears, buried alive under avalanches—that is the right and privilege of any free American."
The pursuit of adventure is all about weighing risks against rewards. Just as with any journey into the unknown, the prize is to succeed, to survive, and to step onto the solid ground at the far side of the canyon, shaking with adrenaline after you've walked across a tight rope, possessing something you never would have gotten without the risk of falling: perspective. In considering the great lengths to which many go for the sake of adventure, I must examine the value of a new perspective, that precious thing I crave so deeply that I'd jump into (quite a few) cold mountain lakes.
It doesn't take too many years on this earth to realize that we are not in control. Car accidents, tornados, kidnappings, heartbreak, cancer, war, unplanned pregnancy, and cracked cell phone screens are daily reminders that we cannot possibly manage all the risk in our lives. Try as we might, things happen, things that we did not orchestrate or ask for, and we're left picking up the pieces. We are literally hurtling through space on a spinning orb that we cannot speed up or slow down (thank God) and somehow manufacture a sense of control. It seems foolish to even discuss the rapidly declining volume of untainted wilderness on our planet when our entire solar system is tumbling through a wild galaxy larger than anything we could ever comprehend. And yet, my very being aches for the preservation of the natural world that I encounter every day. Could it be that my minute interactions with the world around me are somehow interactions with the entire cosmos? That through any participation in adventure, I am refreshing my mind to the reality that we exist in a great wilderness? I believe that developing a mindset of wilderness—of freedom, of surrender to the risks and rewards of life, of embracing life on its own terms rather than my own—could be a step towards living life more fully.
We've become overconfident in our security. We're putting ourselves at risk of fatal mistakes because of our white-knuckled grasp on "safety." While we may be safer from starvation, wild animals, and cliff edges by staying out of the wilderness, what do we miss by insulating ourselves from our own vulnerability, from the urgency of life? Through adventure, I have found myself challenged to recognize the dangers of overconfidence, the ignorance of ignoring my own mortality, of shallow relationships, of complacent spirituality, of underdeveloped emotions, of misusing my body, of wasting my life. Thankfully, though, these are not overnight lessons. I will return joyfully to the wilderness many times for the rest of my life.
In the cold Wyoming air, a man caught the 10:00 a.m. tram where I fiddled with the load-bearing straps on my backpack and triple-checked that my water bottles were full. I never caught his name but his sunburnt orange pack looked more like a small couch than something you'd want to carry through icy mountains for a few days.
"Are you doing the Crest Trail?" I asked, extra chatty with anticipation as I steadied myself with the handlebar by the big, clean window. The tram reminded me of a European subway car with an open floor and a row of seats wrapped around the outer wall. The windows were spotless and stretched all the way up to the ceiling, showing off stunning views of Teton Village tucked like a Swiss getaway beneath the Rocky Mountains.
"Me?" He asked, sweeping his honey-brown eyes over the other passengers. "No, I'm paragliding." The hush that came over the tram car was almost audible. All of us twenty-something girls locked our knees to keep from swooning, while the older couples exchanged anxious glances. Paragliding, that explained his oversized back pack and grizzled adventurer vibe.
"Oh, wow. Have you ever done it before?" The easy amusement on his face let me know I'd shown my inexperience.
"Quite a few times, actually. I'm one of the guides at the resort." More swooning and anxious looks. "Anyone want to go tandem?" I quickly caught Shannon and Rachel's wide eyes pleading me not to accept his offer.
"I'd better not," I laughed, a little grateful for an excuse. "We've got to hit the trail."
After twelve minutes (according to the brochure) and a vertical climb of 4,139 feet, the huge silver box swayed to a stop and the uniformed attendant thanked us for joining the ride. Stepping out into the wind, I glanced over the mountain side. Enormous boulders and acres of loose rock sprawled out among ice patches and evergreens. My friends and I walked up the ramp towards the ski shack to use a real toilet one last time before trekking into the wilderness.
The small mountain shack must have had a hundred retired skis lining the outside wall along the porch. Notes from the skis' owners or odes to the deceased chronicled years of adventures on the peak. Watching from the ski shack's weathered porch as our dreamy new friend took out his parachute and inspected the ropes for tangles, I might as well have been a house cat. It truly is a breathtaking sight: to see a mere mortal run down a gravelly slope towards a plunging cliff edge, be caught by the taut fabric of a multicolored parachute, and be carried out, away from the mountain by invisible currents of air. Goodbye you beautiful, crazy man.
While I am unquestionably grateful for that tram ride in the Tetons, it does make me consider the current state of our wilderness. So few of our natural places are truly still wild. I have followed paved roads and wide trails through "the middle of nowhere." I have paddled up swift water to be met by plastic bottles and refrigerator boxes. I've been distracted from the clear blue sky by plastic bags shivering on a tree limb. On a 500-mile trek through Northern Spain I carried a cell phone size box (at my dad's insistence) that could contact search and rescue using GPS in the case of an emergency. I was, admittedly, comforted to know that wherever I was on the trail, I was never exactly alone. I have to wonder, though, if our chronic connectedness is symptomatic of our cultural aversion to wilderness, to admitting any lack of control. And as the natural world is becoming less and less wild, adventure is becoming less logistically accessible. The safety restrictions for adventure trips are becoming increasingly cumbersome each year. Without the insurance of a university to umbrella the program, the Center for Adventure Leadership at my little college in Kentucky could never have afforded to run such remote trips. As the threat of liability increases, more and more organizations will make attempts to "sterilize" their programs, to disallow any margin of unknown, to tame the wilderness where they take their clients.
Every earthy step I have taken—each paddle stroke, every crawl under seeping cave roofs, each boot lifted heavily from the mud—has affirmed to me the value of encountering life on its own terms. It is through adventure, real adventure, that we are reminded of the nearness of death and the nearness of abundant life. Adventure gives us the breathtaking perspective to realize that life is fleeting, that we must embrace it while we can. Meanwhile my generation—with our GPS, virtual realities, participation ribbons, social media bullies, and morning after pills—seems insulated from the consequences of living life. Why do handsome strangers go paragliding? Why did I jump into that freezing mountain lake in the Rockies?
Edward Abbey included a benediction, a blessing, for his readers in the preface of Desert Solitaire. His exhortation proclaims, "May your trails be crooked, winding, lonesome, dangerous, leading to the most amazing view." Abbey had experienced, time and again, the magnificent views of a fresh perspective. Maybe the greatest risk is not the fall, but a false sense of safety. Perhaps the greatest loss is the loss of wilderness, in the natural world as well as in our personal lives. When we travel only paved roads, only wide paths through natural places as well as through our social, mental, and spiritual lives, what fresh perspectives are we missing? I don't see myself going paragliding anytime soon. But before my time on this beautiful planet is up, I do hope to jump in a few more cold lakes, spend a few more musical nights under the stars, and follow a few more paths through shady forests to find just a few more amazing views.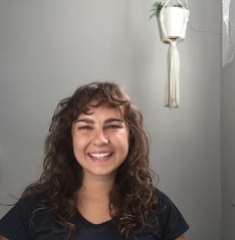 Alex McIntosh lives and writes in Kentucky, her favorite place in the world. She received her B.A. in Recreation with an Emphasis in Adventure Leadership from Asbury University, and is currently working on her M.A. in English with a concentration in Creative Writing from Northern Kentucky University, and her MFA in Poetry from Miami University. The woods are her favorite place to walk, think, sing, and sleep.