The Hand & Other Poems
Poetry by Eric P. Tuazon / Collages by Nat Girsberger
Fore-edge Painting in Argonaut Books
The owner only sold history.
He ran his thumb down
on the top corner
and fanned the verso.
The gold plugged
and a girl appeared
picking through a brush,
flushing birds from hiding.
"Can I take a video?" I asked.
"No." The owner said. His feathers
fluffed, and the book snapped away.
He had learned who could preserve
and who could restore
from his travels. In London,
he was damaged and they had
slopped the job of fixing him.
He was fine until Denmark,
and then his leg ballooned.
Spent seven days in a hospital,
another seven in the Opera.
"When it was time to pay up
and I asked them how much I owed,"
he said, pinching his Kroners,
"they looked at me like they had
never heard the words before.
At the Opera house, a kind citizen
explained the whole story to me
in better in English than my own.
Goodbye, they said, be well."
The Worst Things
The face of each thing
shows Them what They
can take from us.
They may ring our ash
and jam Their pockets.
They may sear our ditches
and drown our eyes.
They may straddle the horizon
for our sunlight.
They may strangle our warmth
for no pleasure of Their own,
but the poet merely
arrives making notes as if
the world depended on it.
They take and ask
who command this coming,
because They are older
and wiser than poetry,
"Never mind the truth,
can every moment
be after You?
Can every moment
lift the brief curse
of our relief?"
Carboy Kettle Creed, Buzzed in Anchor Brewery
Spine of your headstone,
I did not foresee each new life.
We think of the sun and bite it in half.
Wounded by accident. Tourniquet by accident.
Start running by accident. Burned by accident.
Crazy swear things. Only surface things.
Labeled stage with depth and accident things.
Precise question: what should we look for things.
Possibility of spectacle things. Inevitably found things.
Found things.
Historical latch. Captured Supply.
Gifts that are no use.
She believes to be covered in nests
(She is not wrong).
She will eat her hands until spring.
She wears nests as evidence.
She feeds twigs to a ring
inside herself, a hill of ants,
the embodiment of loud sobbing,
strange nostalgia; bundled arch
of rods and axes.
Make known to me
your mirror in your palm,
your name's address.
Show me how
to see your face.
Show me how
to come home.
The Hand
A hand loosens line
to tell stories and gut fish.
It slices through the eyes
and pulls up the stomach
from where we breathe.
The fish will wear the line,
save stabbing hook in its mouth,
and the story will wear the line,
save infant gaze in its mouth.
A hand lifts light
to hollow bog and candle wick.
It pinches twine
and pulls the weed
from where we plot.
The wick will wear the light,
save fire in its mouth.
and the bog will wear the light,
save smoke in its mouth.
And your hand drowns running
to hush habits and brandish weapon.
You shake your head
And pull your return
from your living want.
Your weapon will wear the running,
save retreat in your mouth,
and your habit will wear the running,
save what you can in your mouth.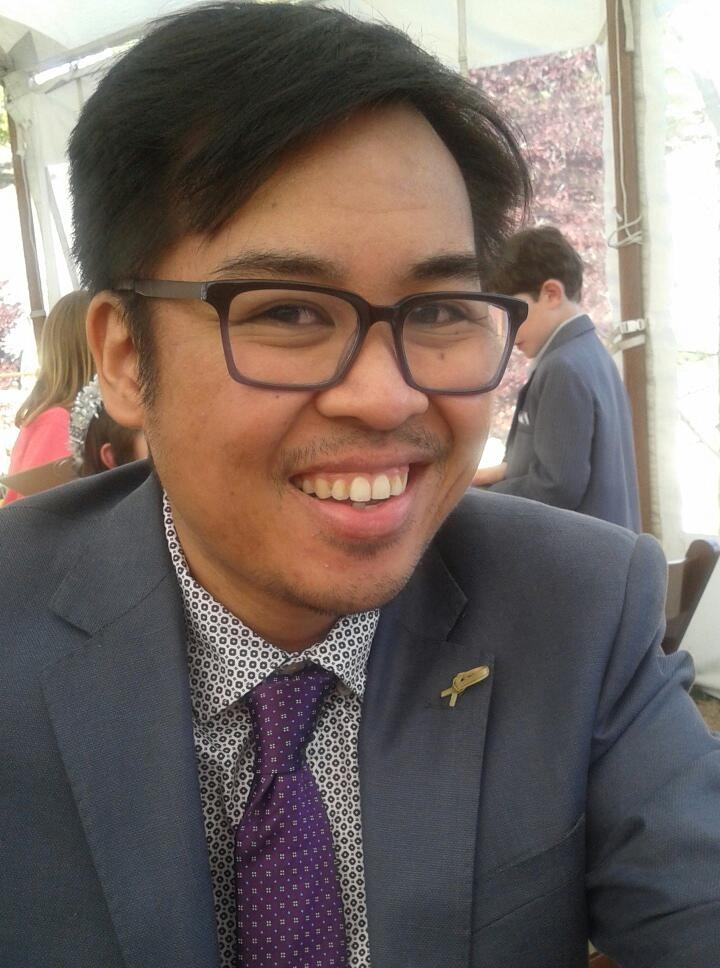 Eric P. Tuazon is a writer from Los Angeles. His fiction and poetry have been published in several publications. He is the author of several books, including two poetry collections, Animals and Love Will Tear Us Apart.