Hong Kong
If you asked me what my favorite city was during my four-month trip traversing the Eastern Hemisphere, Hong Kong would be at the top of my list for many reasons. The food is phenomenal, the hikes are jungly, and the pastel-colored buildings are gritty in the most beautifully lived-in way. Looking back on my time spent there, I can't wait to return – but I didn't always feel this way.
I made my way to the humid metropolis toward the end of my trip. It was the first city I traveled to entirely alone – and solo travel is hard. Yet still, this visit proved to be one of the single most rewarding experiences I've had in my life. That's not to say it was all easy, as Hong Kong and I had a rather rocky beginning.
When I first arrived at my Airbnb in Sai Ying Pun, I lugged my suitcase up what seemed like twenty flights of dank, dimly-lit stairs. As instructed, I found the apartment key under a potted plant and then dropped my bags off inside before venturing out for dinner. I quickly learned that Google Maps, my trusted travel companion, did not have the best handle on the streets of Hong Kong, so I got turned around on my way to dinner.
When I did arrive at Yardbird, a famous yakitori restaurant where people were waiting in a queue for the doors to open at 6 p.m., I was able to exhale. I followed the line as my fellow diners and I serenely flowed into the sleek, minimalist space, and re-entered my comfort zone. I sat at the wood bar and was guided through the menu of grilled chicken skewers by a beefy man with tattoos and gauges and felt at home as I devoured his recommendations. Ume thigh with shiso, oyster with sea salt and lemon, meatball with tare and egg yolk, and a mind-blowing bite of ventricle. I went to bed thinking, I've got this, but Hong Kong had other ideas.
My first full day in the city was one of both figurative and literal highs and lows. Thanks to jet lag, I awoke early only for Google to inform me that breakfast places don't really open before 9 a.m. When it was finally time to embark for a meal, I was already lightheaded with hunger. Then, I walked in circles frantically for fifteen minutes looking for the MTR entrance, realizing continually that what looks like a street on Google Maps could actually be stairs or an outdoor escalator.
Eventually, I found the entrance, successfully took the Island Line to Central, and walked underground to Hong Kong station to eat at Tim Ho Wan, an acclaimed dim sum spot. Joke was on me when I thought I'd finally made it, because then I spent another fifteen minutes lost inside the mall portion of the International Finance Center, taking various lifts up and down desperately searching for dumplings. I almost lost it when I got the Verizon text that I'd incurred $25 of international data charges trying to figure out how to get food. When I did ultimately eat the pork buns, dumplings and rice paper rolls, none of the dishes were even very good and the elderly man across the table pointed out that I over-ordered, which was true.
But at least I was fed, right? Wrong. I took the MTR and then a bus to Shek O to hike the Dragon's Back and almost immediately, I fell on my butt and scraped my forearm. The rest of the green, planty hike was lovely, with shoreline views in every direction, but I still felt a bit frazzled, misplaced, and lonely.
Nothing two bowls of noodles can't fix, right? Well, kinda. I slurped up shrimp wonton noodle soup at Mak's Noodle and then beef brisket noodle soup at Kau Kee Restaurant. I started to become accustomed to being squeezed into a single seat at a table with strangers and eavesdropping on English conversations, which is what I found myself doing during dinner at Little Bao. By this point, I learned that the main perk of solo travel is the nonexistent wait time for popular restaurants. There is always a spot at the bar for one.
This realization was enough for me to go to bed feeling optimistic, though a bit defeated. Luckily, the next day is when I fell in love. I'm not sure if the city just decided to let me in or what, but staircases suddenly started to make sense as passageways. I had a delightful Western breakfast at Café Deadend, which is located on the charming, neighborhoody Po Hing Fong along Blake Garden, where I'd seen locals playing pickup basketball the night before. Then I grabbed a croissant to go from Po's Atelier and shoved it in my backpack, a decision I'd be pleased I made later.
I walked through more of the city, and was captivated by the tall, skinny, pastel buildings in pink, blue, and mint-green hues, until I reached the start of the Central Green Trail. This path took me spiraling up a mountain on a steep concrete walkway lined with trees, save for a few clearings where I could see glimpses of my newly beloved Hong Kong architecture.
Sweating and shirtless, I finally reached the Peak – Victoria Peak – which most people arrive at by tram. At the top of this very tall mountain were two giant shopping malls and I paid to go onto the viewing deck of one of them called Peak Tower. It was worth every Hong Kong Dollar because I was met with sweeping views of the entire city from high up above. I ate my croissant up there and soaked up all that was before me, entirely content.
Then, I descended the Peak on a double-decker bus and went to Yat Lok Restaurant for roast goose and barbecue pork over rice. Unsurprisingly, I was squeezed between strangers, but a very friendly Asian Canadian woman named Trish started talking to me. She helped me order correctly and gave me a napkin, since the more traditional eateries don't provide them. It turns out, she's lived in New York and offered to take me to dim sum the next morning – an offer I wouldn't dream of refusing.
The invitation catapulted my mood from great to near-euphoric, and I rode that new-friend-in-a-new-city high as I perused three modern art galleries and sat at my own two-top at the subterranean restaurant Ho Lee Fook for dinner. I revelled in pork and cabbage dumplings and Hunan-style, twice-cooked pork ribs, but the lamb dan dan noodles were a true religious experience for me. The spicy heat with little, cooling slivers of cucumber blew my entire mind. I wanted to bring them home with me.
My level of elation didn't deplete for the rest of my trip. Trish took me to Chau Kee for siu mai, shrimp toast, and golden lava french toast, which oozes sweet, thick, yellow custard when you cut into it. I took the MTR to the other side of Hong Kong and walked for miles around the eclectic streets of Mong Kok, from Fa Yuen, or Sneaker Street, home to Nike, Adidas and the like, to Tung Choi Street North, where every single shop for a few blocks sells plastic bags of live goldfish, aquatic plants, tiny turtles, weird mole rat-looking frogs and other strange things that swim or crawl. I ate a splendid polo bun from Kam Wah Café & Bakery, walked through Ladies' Market, and then went all the way down Nathan Road to Tsim Sha Tsui, where I took the Star Ferry back to the island for more shrimp wonton noodle soup, this time at Tsim Chai Kee Noodle Shop.
Later, I met my new friend Trish and her husband Ryan for dinner at Happy Paradise, a groovy bar and restaurant on the second floor of a building. The place looked like the inside of a limo, with beams of colored lights, a glittery, Essie Mint Candy Apple-colored bar and terrazzo tables. We ordered intriguing dishes like sourdough egg waffles with bottarga whip, cold steamed egg custard, and Iberico roasted pork char siu, but the most fun part was organically spending time with people I just happened to meet.
In the morning, I made another friend eating breakfast at Dim Sum Square. Charles, a French guy who's lived in New York, had moved to Hong Kong from Montreal just the day before, so I was able to recommend to him some of the delicious things I'd eaten in the previous days. It was a sweet encounter, accompanied by some sweet pork buns, and then it was time for me to skedaddle.
I boarded my flight to Taipei richer in friends, food, and experience than when I'd arrived. I was proud of myself for conquering my first entirely solo trip and having it be so successful that I am already excited to come back. As I look forward to my return, parts of my mind are already scheming about when I'll next have the opportunity to galavant around this enchanting island city. But in the meantime, I'll just have to settle on having a photo of those gorgeous pastel-colored skyscrapers as my phone background.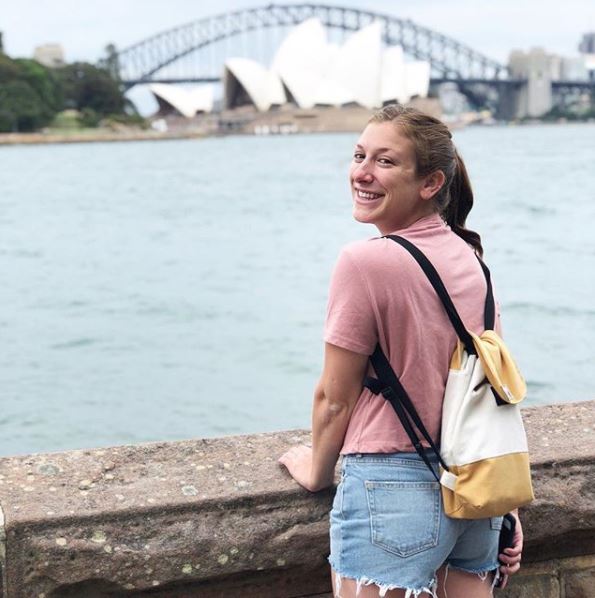 Morgan Goldberg is a freelance writer and gluten enthusiast who just traveled all over the Eastern Hemisphere in an effort to eat all the carbs this side of the world had to offer. She spent two years working at Food & Wine preparing for this task.