Tangible Soul Pottery
Potter and ceramicist Miche Wang shares how the art of working with clay shapes her perspective and outlook on life.
Back in high school, I had an art credit that needed to be filled. I had taken drawing classes before, but I never found them fulfilling. The world of ceramics presented itself as untraveled terrain, and I couldn't resist a good adventure. Curiosity became fascination which soon morphed into a kind of obsession. However, the early days weren't always easy. Pieces I made would break, or fall in on themselves, and I'd leave the studio completely demoralized. I lacked patience; I wasn't listening and responding appropriately to my medium. I felt I was terrible, but still I was determined to understand the language of clay.
I have found that communicating with clay is to communicate with nature and thus oneself. Working with clay is inherently therapeutic. The process itself inspires me. As of late, a majority of my pieces are less about the final product and more about the remedial nature of creating. I guess pottery has always been a healing balm for negativity in my life.
My pieces are generally functional. I value slow (mindful) living, and the natural pace we are meant to live. If we are what we do, I want everything I do to be a celebration of life. A respect to nature and myself, if you will. Something as simple as pouring coffee each morning into a thoughtfully made vessel, or taking time to enjoy flowers that seem to grow directly from its vase can enhance daily life.
Many people avoid using handmade pots, because of the anxiety that it will shatter and no longer serve its function. Impermanence is a wonderful lesson, one I learn time and time again. Nothing lasts, so stay present and enjoy the moment. Sometimes that can be difficult. Handling soulfully made pots can help us come back to center. My color palette is vibrant with shades of blues, creams, amethyst, and rich iron oxide.
I feel that it is imperative that we return to nature every now and then, so natural scenery often impacts the design of my ceramics. There is a boatload of research that shows our brains need to dial down and rest, just like every other muscle. Simply looking at green, open spaces can have a calming effect on our minds and spirits. This is not a divine or mysterious concept – this is normal. And probably more important than we think, especially in the wake of modern life.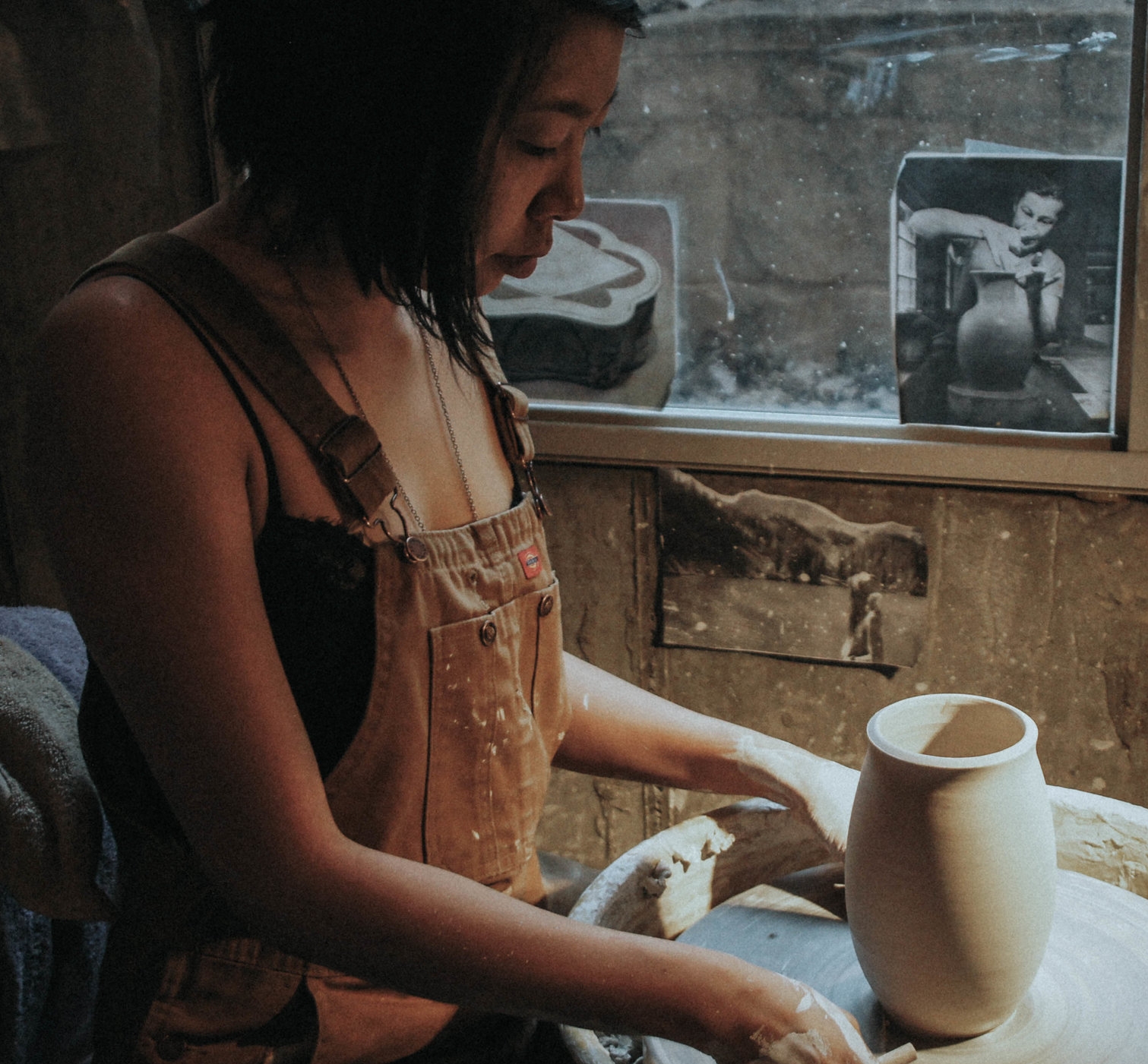 Miche Wang started getting muddy in 2010—and hasn't stopped working with clay since. When she's not in the studio, Miche enjoys skiing, hiking, whitewater rafting, and is occasionally caught foraging wild edibles. She recently relocated to Whitefish, MT in pursuit of colder winters and a job opportunity where she can excel in the world of production pottery.