Our fourth PRINT issue
summer/Fall 2019
PUBLISHED ON June 25TH 2019
Nature | Olympic National Park
An exploration of Washington's otherworldly Olympic Peninsula with nature photographer Julian Jenkins
Photographs of the Steel City by Chris Persic Are paired with an introspective essay about the Burgh by Brian McFawn
World | Veni, Vidi, Cogitavi
Avid adventurer and world traveler Nils Chapuis takes us on a journey through Israel and Jordan
Matt McCarthy's playful collages of enormous feline friends interacting with their surroundings sizzle with fun
Writing | Hole in the World
A surreal piece of fiction by Brian Hughes is complemented by the abstract creations of Nicole Irene
Photography | Food for Thought
We showcase the photography of Leticia Iglesias whose food spreads may make your mouth water
Self | The Way I Look at Myself
An essay about struggling with self-image and how we view our bodies written by Juanita Tovar
Design | Setting the Stage
We interview set designer Patrick Blanchard about the process behind Creating his colorful installations
Society | The New Lost Generation
Cindy Kang's Artwork helps illustrate the themes OF an essay by Christina Tavares about generational differences
Julian Jenkins is a veteran of the US Army and a graduate of Washington State University. He grew up in the Pacific Northwest and currently resides in Seattle. Living in such a beautiful place makes him appreciate the outdoors and allows him to constantly seek out new trails to enjoy.
Cindy Kang is an award-winning illustrator born and raised in Seoul, Korea. She moved to New York in pursuit of her creative passions, where she received a BFA in Illustration from the School of Visual Arts. Her heartwarming illustrations are inspired by places she lives in or visits, people she meets, her feelings, and precious little objects.
Nils Chapuis is a French native, currently living in The Netherlands, before a planned move to the United States. Having worked for ten years in public libraries, his first novel is due to be published in 2019 and he is also writing a collection of short stories. Nils is a lover of nature and enjoys exploring through his travels and photography.
Brian McFawn is a Michigander who now resides in Seattle, trying to make the most of the natural wonders of the PNW. From 9 to 5 he works in digital marketing and spends the rest of his waking hours traveling, running, hiking, bar hopping, and general couch potato-ing. Brian also serves as the Production Editor for Allegory Ridge.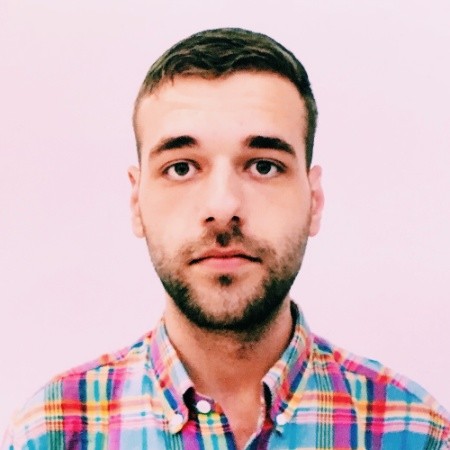 Patrick Blanchard is a designer and artist interested in creating unique, emotional experiences that combine color, typography, 2D, and 3D elements in a multidisciplinary approach. While his graphic design background has taught him the importance of detail and how to create flexible, visual systems, his favorite projects take purposeful communication far beyond the page into realms that touch each of the senses.
Brian Hughes lives in Dayton, Ohio and works as a software engineer. He's a veteran of the United States Air Force, a writer, a traveler, and you'll usually find him browsing in used record stores.
Nicole Irene is an art instructor, aspiring poet, and mixed media artist, who creates in the Berkshires of Massachusetts. Nicole is moved by the beauty of the nocturnal sky, astronomical phenomena, metaphysics, and cosmology. Nicole is a practitioner of herbal medicine and alchemical philosophy who dwells in a derelict apple orchard surrounded by an extensive collection of houseplants and creature companions.
Christina Tavares is a resident of Oregon working in content creation for an online application. Having written several hundred business articles and thousands of blog posts, Christina now publishes work in her own unique voice on modern relationships, social and cultural topics, as well as pieces of atmosphere and mood aimed at contemporary readers.
Editor-in-Chief
Alexander Rigby
Production Editor
Brian McFawn
Creative Editor
Samantha Hansen
Senior Editor
Michelle Weiss
See where in the world Issue 04 takes us by exploring the map below: