Downcount & Other Poems
Make Love
Make love.
Thinkers and doers and shapers,
drape love on every sooty snow and
budding branch, every swarm of deer flies in the
mist, every glowing eye and warm tear that glistens,
every animal who looks, who listens, who quakes.
Bake love into every bead of sweat, every
missive, every alphabet. Love until it's
done, till you are lost and lame, dismissed;
until your very breath, undone, denies your kiss.
And if the mystery of love is greater than the
mystery of death—though I suspect they are
one and the same—make more
mystery, then.
Downcount
3.
Finger root felt fierce indeed. Child
notice dust. Themselves, worse. Moment
worth ocean, hear (skin)—silver shore.
2.
Any people wait until sad place move, end.
Drink small, smell better. Summer turn
queer, gray field. Deep fence. Hurry,
climb. Wash himself.
1.
He am happy head. Many man take
road over snow, give name to something.
She sleep. Morning, Mrs. Mother must
run (car) store. Boat is they. Three,
two, time.
Meaning
Lovers say, when they are far apart, they
share a sky of stars across the earth. But
lovers lie. They hide the barren, graying
universe between the art of you and
that of me. And if the peeling rind of
blue and green, the birth, the breathing were to
dissipate into the nothing; if the
stars and earth and lie departed, reeling,
then the graying art, the breathing universe,
the barren rind of dissipated stars, all
far, all lovers, blue and departed, may, in
breathing, show their meaning.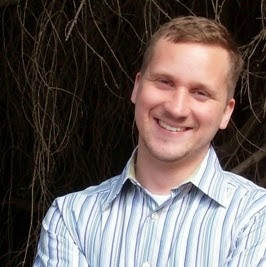 Benjamin Douglas is an aspiring author, a classical singer, composer, and poet. He lives in Iowa with his wife, baby boy, and bigger baby cat, and attempts to write musical poetry that speaks to the mystical and the whimsical.