South Africa
If sitting on an airplane was considered a sport, this trip would have had my parents and I competing at the Olympic level. Flying from Portland, Oregon to Cape Town, South Africa—the diagonal opposite side of the Earth, some 10,000 miles as the crow flies—will take you about twenty-four hours of solid airplane time. Whether you take one of the longest flights in the world across the Atlantic (Atlanta to Johannesburg—17 hours nonstop) or you break it in half with a pit stop in Europe, there's no denying that your butt is going to hurt and you'll have watched every free movie, twice. That being said, would I do it again? In a heartbeat.
After an eternity with no sleep and some flight complications, we arrived in Cape Town late in the night to meet with my brother and his in-laws. A tangle of joyous hugs later, we settled into a house owned by my brother's wife's sister, a woman with a glowing spirit. Her charming South African accent—much like the British but something added—a voice drizzled in honey and warm native sunlight. Her house, a comfortably open and traditional structure was refreshingly simple. Perhaps one of my favorite things when traveling is getting in at night. You're usually exhausted when you finally arrive which muffles any appreciation for your surroundings. There is a beautiful moment when waking up the next morning and looking out the window to see the foreign world you are in for the first time. South Africa certainly did not disappoint.
Our first night we had a Braai, a traditional South African BBQ made with local meats, especially sausage, blended with local herbs and spices over an open fire. The smell of clove and wood ember melted into the cool Autumn dusk.
Though our purpose in South Africa was to attend my brother's wedding, I'll skip to a few of our travel highlights. However I can't go without saying that it was held at South Hill Vineyards in the Elgin Valley just around the corner from Grabouw. A place so unfathomably beautiful I had a hard time accepting it as reality. In the heart of wine country and surrounded by apple orchards, the vineyard hosted rolling hills of wine grapes as far as the eye can see. It offers a wonderful hike where I lost myself in the maze of ponds and vineyards, the air still sticky sweet with the smell of harvest. One morning I thoughtfully followed the breadcrumb trail of wild guinea feathers around every bend.
The first stop and possibly my favorite from the trip was Table Mountain. Jutting straight up out of the Earth it is one of the 7 Natural Wonders of the World and can be seen from virtually anywhere in Cape Town. You can hike to the top in a few hours, but with an elevation gain of 3,500+ feet it isn't for the faint of heart. If you're not the hiking type or don't have the time commitment you can take a several minute gondola ride to the top which we opted to do as a group of nine. The view is absurd. The city below looks like a hand-full of pebbles strewn along the beach. A well-footed pathway takes you along its landscape with points of interest and an appreciation for the smallest of the 6 Floral Kingdoms on Earth, full of biodiversity. At the top lives an unexpected and peculiar beaver-like mammal that captured my heart instantly, the Dassi, which apparently is the closest living relative to the elephant. Their faces have a permanent smirk and they are comically majestic as they sit on the cliffside staring at the sky, pondering life. We planned our arrival for the pending sunset, and it was powerful enough to make you contemplate a higher being. I almost felt sinful not having someones hand to hold as the sky turned into every color of love's palette, the group gathered around me at the edge of the cliff paired off in twos. It gave me the rolling tide of an old sunset lover, it took my hand and twirled me. I let it take the place of a thousand little memories. The next time someone asks me my favorite color, I'll tell them Table Mountain's Sunset—put that on a crayon.
We stayed in an Airbnb near "The Garden" area of Kloof St. in downtown Cape Town, where you'll find every restaurant and corner shop you could want. Unofficial gangs of yellow safety-vest cladded homeless men divide themselves along the street, ushering you to open parking spots and "watching" your car for you while you're out and about. Some of them are fleeing other countries and you'll find if you talk to them that a few may be doctors or lawyers doing what they can to survive in a country that doesn't recognize them. My first experience with one was a belligerent drunk man, so that threw me off a little bit. 5 Raan ( about 30 cents) when you come and go is customary to keep things peaceful.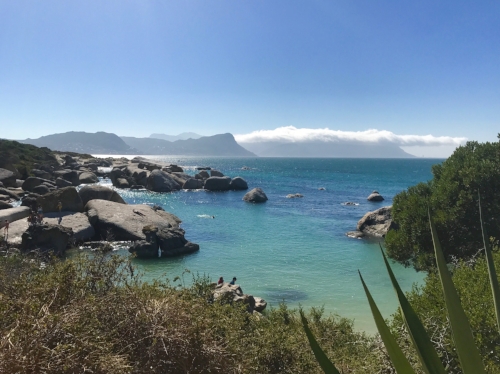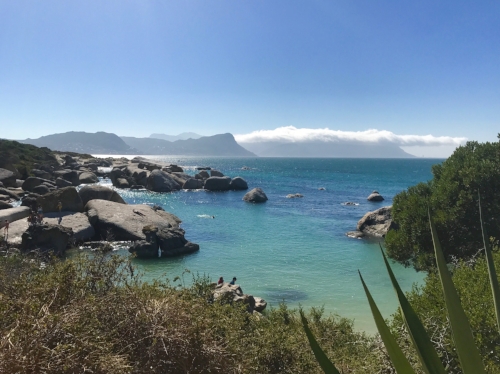 In the following days we made a point to hit Boulder Beach, which is an iconic point in South Africa known for its Jackass (yes) penguin colony. Seeing a penguin for the first time in the wild was much like finding a lost puppy, overwhelmingly cute but terribly painful because you want to pick it up and hug it but that's frowned upon (and illegal). Precious and smelly, they can't be more than a foot and a half tall. The stretch of road along Boulder Beach offers many hot ticket cafes and quirky stores, giving it that perfect coastal town vibe with rows of colorful houses and ocean views.
We also had the chance to take a Ferry to Robben Island, an infamous place of desertion off the coast of Cape Town. Once used for the banishment of Lepers and the captivity of Nelson Mandela, South Africa's late President famous for his anti-apartheid revolution. A foggy morning at the harbor filled with the call of hundreds of hungry seagulls took us on a twenty minute ride across the bay. There, we met with a man who once was a prisoner on the island himself. He took us on a taxing mental journey of what it was like to be a political freedom fighter and the overwhelming mental and physical torture they were forced to endure. Though Robben Islands history is stained with an inky sadness, those who lived through it wish us to remember it as a place of perseverance and strength.
On a later day we jumped on a hop-on hop-off bus and took the blue line through the outskirts of the city. Looking at the big red double decker bus with the exposed top, you may be thinking "Wow, that exposed upper deck looks like a great idea!" Pro tip, its far more enjoyable under the covered part. The bus ride itself however was totally recommended—a pair of headphones plugged into your seat gives you an informational tour guide of your bus route and drop off points. A great way to learn about the city and make notes for future areas of interest. I suggest this at the beginning of a trip if you're flying by the seat of your pants so you can learn the area. Our first hop off was at the Kirstenbosch National Botanical Gardens. A sprawling well-kept landscape with a mountain backdrop. The ideal spot for a bottle of wine and a blanket while you watch the land fowl and their babies trot across the fields. Informational placards sprinkled throughout the park inform you of all the native flora that surrounds you, hiking pathways veining into the distance.
Before I could drink it all in we were already off to our next adventure to the oldest wine estate in South Africa, Groot Constantia. At 330+ years old, they have got it figured out. Even Napoleon ordered their wine. Old white stucco buildings line the property sending you back in time with a mid 1700s vibe. The restaurant environment and food was amazing, but what we really came for was the wine. A red blend specific to the region called a Pinotage known for its plumy, warm earthy flavors took my vote as a new favorite. Not only is Groot Constantias wine delicious, but for $5 you can do a five glass wine tasting. By glass I mean GLASS. I left there with a skip in my step.
On our last evening drive, many beaches passed us by and I felt remorse knowing that I didn't have the time left to take a piece of each of them with me. I'd like to think that one day I will return. I crave the places that went unexplored. To come back for a season I hadn't felt. The hikes I wished to trek. For a once in a life time Safari experience and for the many museums I never entered. For the sweet locals and their velvety presence. To cage dive with great whites or run the Two Oceans Marathon along the Cape. For every perfect cup of coffee or glass of wine at "The Power and Glory," "Yours Truly," and "Melissa's" that I will constantly miss. Saying goodbye to something you're not sure you'll ever see again is a uniquely kind of painful. But it's a good hurt. Perhaps it goes without saying, but of course, I'll miss you too. I think a little bit of yearning does the heart well.
Luke Schmidt is a flight attendant and artist born and raised in the Pacific Northwest, focused on healthy living and human connection. He is currently based in Portland, OR.